This is one of 5 or 6 good threads that I bashed out when I had control of the @Hamilton_Humans Twitter account for a week in June 2019, and the third one that I've added here. The original 56-tweet thread and its threadreader version are, at the time of writing, still alive. I intend to publish them all here with only very minor editing (typo removal etc). Let's see if that actually happens.
So maybe I'll tell another story now. Hands up if you remember the Hamilton City Council elections of 1998… 🙋‍♀️🙋‍♂️🙋🏽‍♀️🙋🏽‍♂️
I like to believe that I have only a regular amount of interest in local body politics, but this was a mayoral election when I was a high schooler and I have a story to tell about it, so I'm probably kidding myself. Anyway, 1998 was the year of Russ Rimmington.
Margaret Evans had been the first woman to run the city, and she wasn't running. So by civic election standards, it was a fairly open field.
I don't remember too many of the candidates. Jody Garrett (spelling?) was running. His most notable achievement at the time was being young for a councillor. Maybe he was in his 20s? Anyway, he was a first-termer and probably never had a shot.
The reason I don't really remember any of the other candidates (other than the fact I was a schoolkid, and this was a local body election 21 years ago, so why would I?) is that we were somewhat occupied by Russ.
Amongst the teenagers of Hamilton there was a solid rumour that Russ wanted some sort of 9pm curfew to apply to young people. Typing it now, it seems highly likely to have been….somewhat false.

But we believed it, so we didn't like the guy.
You'd be at a house party where someone's parents were away and a bunch of kids from different schools would all be drinking Kristov mixed with Raro, worrying about the mayoral race. Weird times.
OH MY GOD WE WEREN'T CRAZY. This helps me feel better about what happened next:
So anyway, the thing to do on a Saturday night, before the Kristov kicked in and ideally on the way to the house party so you could show off your cool new acquisition when you got there, was to grab yourself a Russ Rimmington sign on the way.
There was a lot of this going on. After a while, Russ signs got kind of hard to find.
You'd have to plan ahead, to beat the rest of the kids. Second half of the week you'd start making a mental map of where the Russ signs were in your neighbourhood. Or other people's neighbourhoods – who cares? Some places would restock fast. Others would stop bothering.
What a fuckin' bizarre status symbol. From memory they were kind of yellow.
Anyway.
A few weeks into this whole thing, it was getting ridiculous. I have committed to memory a phrase used by Russ in a Waikato Times article about the whole thing: "orchestrated vandalism campaign".
Orchestrated.
Vandalism.
Campaign.

What a line.

You'd be at someone's Dad's place, Kristov in hand, and in the quiet while someone switches out the Blur CD for the Oasis CD you'd hear the conversation: "Orchestrated? There's too many of us!" So many of us that most of the Russ-supporting houses stopped reattaching signs to their fences. That left fewer prizes. It was getting harder to win the stupid game.
(Smart Wife, who was very proud of the role she played in yesterday's absurdly long thread, would like me to point out that this was years before she had anything to do with me. Well duh, Smart Wife, you were like 12 at the time.)
We had so many house parties because there wasn't that much to do in Hamilton in the 90s. The drinking was 20 (except for the Bongo), and the grunge era had convinced adults to not even try to help teens have fun. Hell, we were bored enough to make the Russ Game a thing. You know how sometimes you have ideas that seem clever, but they're actually really dumb?

Well guess what happens when a few smartass teens have to work out which house will definitely have a Russ sign stapled to the fence…
…
…
…that's right! There will definitely be a Russ Rimmington mayoral campaign sign on the fence outside RUSS RIMMINGTON'S OWN HOUSE.
And because this all happened in the dark ages, we had the phone book. So we looked up Russ. Bingo – guaranteed sign!
And the weekend before the election, that sign went to a great party in some suburb I can't even remember.
Man, the *real* Russ would've hated that party, with the young people and the loud music and the fun. But the Russ head-and-shoulders shot had a great time.
Now, when you're a dumb teen, you pretty much equate local political campaigns with signs on fences. You don't know about candidate events, or Waikato Times op-eds, or the fact that voters know who the sitting council members are.
No signs = No campaign = No chance. Right?
Wrong.
The next Saturday, the results come out, and Hamilton's new mayor, replacing the trail-blazing, three-time election winner Margaret Evans is none other than Russ Rimmington.

Boooooooooo.
Now, before I tell you what happened next, I want to tell you three other things.
1. Russ Rimmington has the world's saddest Wikipedia page. This is all of it:

2. The Council's webpage about Previous Mayors looks like this: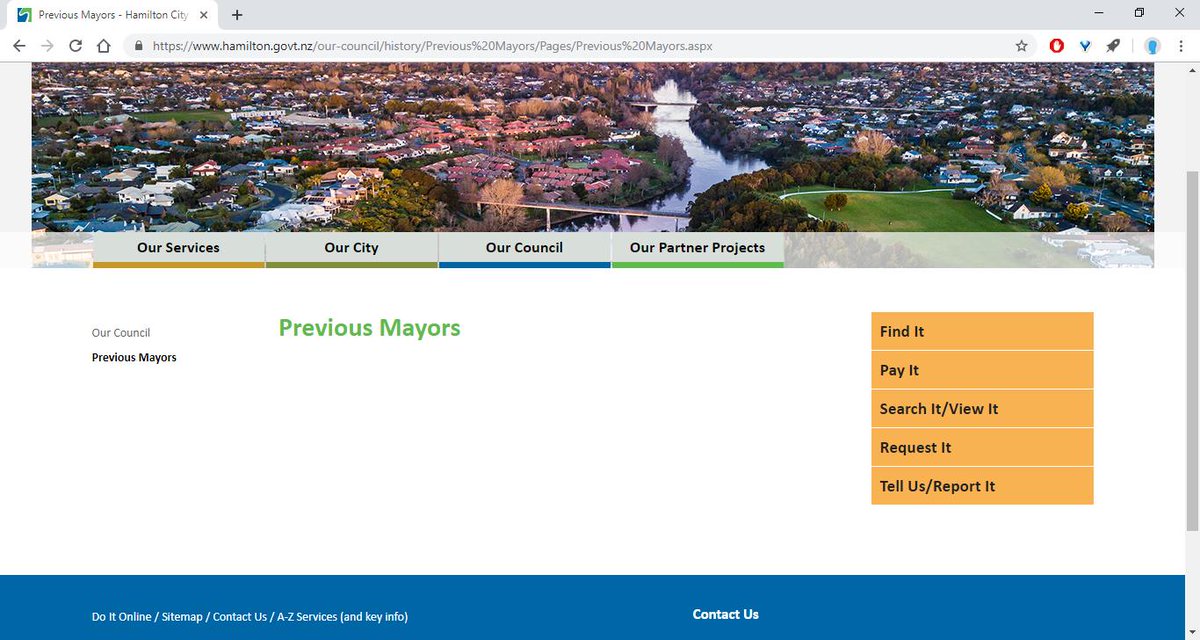 3. The reason I was looking for a list of previous mayors was to see how long a bad streak started with Russ. He was the first of FOUR CONSECUTIVE one-term mayors. (The streak was broken by the second-ever woman to have the job. Coincidence?).
Anyway. Where was I?

Ah, yes, the night of the election result.


I'm in a car with a mate. We're bored. The Russ Game has come to an end, and we lost. The mood is bad. Even worse, everyone's parents must be home, because there are no house parties this weekend. But we figure that there must be at least one party happening in town.

Because at least one Hamiltonian has just had a great day.

And we know where he lives. And mayors have to be welcoming to the people, right?

So we figure, okay, cool. Let's double down on the Russ Game. Let's go to his house, knock on his door, congratulate him, see how much his real face looks like his campaign photo, and shake his REAL LIFE HAND.
Oh man, my heart was racing so fast. I think my pulse is up now, just remembering it. We parked on the road (there were quite a few other cars around – no surprise), walked past the (signless) fence, up the path, and knocked on the door. We could hear party-like noises inside. Grown-up party noises like Neil Diamond, not real party noises like Blur or Oasis. But still, we figured he'd be in good enough spirits to say hi and accept a handshake.

We wait. Maybe it's too loud inside.

We knock again. The door FLINGS open!

But it's not Russ. It's someone waaaay younger.
And newly-re-elected-but-still-the-youngest-councillor Jody Garrett looks at us, sways to the left, sways to the right, lifts up his beer bottle as a salute and yells, "HEEEEYY!! COME ON IN!!" So what can you do? We want that handshake, so we come on in.

Someone – Jody, maybe? Probably – passes us drinks.

We ask to have a quick word with "Mr Rimmington".

He shakes our hands!! We have our awesome story to tell all the other teens!

Then he invites us to stay. We have beers, and we have nothing else to do. So…we stay. And stay.
Jody Garrett, by the way, is in amazing form. More than once he lifts up his arms in triumph and yells into the sky, "HIGHEST POLLING CANDIDATE IN MY WAAAARD!"

He seems to have forgotten about the mayoralty bid that he'd been running until earlier that day.
So when you think about it, I probably shouldn't have asked him about how it felt to be a loser at the winner's party.

But, as I think I've mentioned before: Dumb. So I did.
I mean, Jody had done it all. Signs on fences, Waikato Times op-eds, and even that thing that Hamilton mayoralty candidates do when they stand on the side of bridges and wave signs at the traffic.

I don't know why I asked.
Luckily, Jody is a happy drunk. Ecstatic, even.

"Man, who cares? I'm still there! HIGHEST POLLING CANDIDATE IN MY WARD! I'm still there!! I mean, I'm not mayor, but…"
Then he gets that look that people get when they (a) shouldn't be having ideas of any sort, and (b) just had what they're sure is a *great* idea.
Also, I think parts of his brain were still in campaign mode.

"I should let people know how happy I am! I'm not mayor, but I'm STILL THERE! I could get signs and stuff!"

He tells us that on Monday morning he'll stand on Fairfield Bridge with a "Not mayor but still there" sign.
While we're having this long chat, people have started leaving. Like, quite a lot of people. There's one other young person there, so she ends up in our conversation. Jody goes…actually, I have absolutely no idea what happened to Jody.
Turns out we're talking with the mayor's daughter. She's cool, and not really into this whole local body politics thing. Good conversationalist though. And, like, a lot of people have already gone now.

Because it's 4 a.m.
Mrs Rimmington comes down the stairs in her dressing gown to see what the noise is.

"What are you boys still doing here? Jody left hours ago!"
"Well, yeah, but we don't really know Jody."
"But he's the one who invited you!"
"No, we just popped in to shake Mr Rimmington's hand." "Get. Out, NOW." But if you think our night ended badly, imagine what Jody Garrett did to STILL LOOK HUNGOVER AS HELL 2 days later when, yes, he spent Monday morning waving post-campaign thank placards at the confused motorists of Fairfield Bridge. And that's the unofficial story of Hamilton's 1998 local body elections.

The.
End.
Postscript, May 2020: I forgot the fantastic detail that towards the end of the campaign, Russ was so short of mayoral campaign signs that he distributed council campaign signs from the previous election to his supporters. They were small, a completely different colour, and definitely less valuable.